Most Valuable Promotions and Real Fight Inc. partner with DAZN to bring Paul vs. Diaz to audiences worldwide.
Most Valuable Promotions (MVP) and Real Fight Inc. (Real Fight), announced Wednesday that they are partnering to create the most highly anticipated boxing match of the year. On August 5th, 2023, international superstar Jake "The Problem Child" Paul and combat sports icon Nate Diaz will finally settle their growing feud over eight rounds at the American Airlines Center in Dallas, TX. Paul vs. Diaz will be contested at 185 lbs. with 10-ounce gloves, and will be distributed and co-produced globally by DAZN PPV and made available on all devices, platforms, cable, and satellite PPV providers around the world.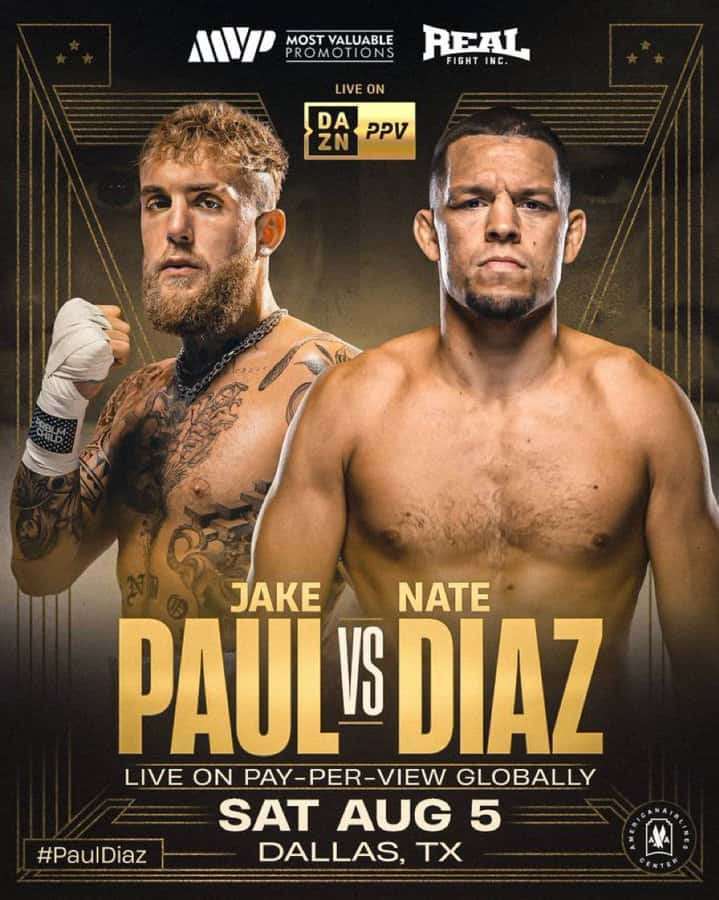 Over the last 18 months, Paul and Diaz have traded scathing public jabs about a potential fight, and now the world will finally see the duo go head-to-head to settle the score. Paul (6-1, 4KO's) will be out for revenge as he prepares for his first fight since his split-decision defeat against Tommy Fury. Hungrier than ever to show the world his boxing prowess, the Cleveland native is pulling out all the stops to prepare for his fight against Diaz and is promising to silence the critics with a spectacular KO against the combat sport icon.
Paul's attempt at redemption will come at a steep price as he takes on the world-renowned MMA superstar and heart of the 209, Nate Diaz, who makes his highly anticipated boxing debut after being the most sought after free agent in combat sports history. Boxing has been a staple throughout his 17 years as a professional, which has included being a regular training and sparring partner of undefeated boxing legend, Andre Ward. A proven fighter willing to take on the biggest name in his sport, Diaz headlined his last show for the UFC and capped it off by being the first person to ever submit Tony Ferguson. He has won 22-fights as a pro, including devastating Conor McGregor with a 1-2 that lead to the Irishman's first loss in the UFC.
"My last fight didn't end the way I wanted, but the result was the best thing that could have happened to my professional boxing aspirations. Now, the world thinks I am vulnerable, when all I am is more focused than ever. My team wanted me to take an easy fight like KSI next, but that's not how I am built. Nate Diaz is considered one of the most bad-ass fighters of all time, but he and his team have been running their mouths for too long," said Paul. "People tell me Nate has been training with Andre Ward for years. That he has insane stamina. That he refuses to back down. Good for f—ing Nate. I haven't forgotten about the slap backstage in Arizona, and on August 5th, a Problem Child is going to piece up and knock out the Stockton G."
"Besides Canelo he's the biggest thang in boxing. I'm here to conquer that. I'm the King of combat sports and then I'm headed back to get my UFC belts," said Diaz. "I f—ed up Conor for acting out and now here I am again, like a Super Hero of the Real Fight game, the King of the Real Fight game."
Most Valuable Promotions, founded by Paul and Nakisa Bidarian, and Real Fight, Inc., founded by Diaz, are partnering to bring Paul v. Diaz to global audiences. The strategic partnership will combine the star power and international reach of both fighters to promote the year's biggest fight.
"Jake's star power and popularity continue to command massive audiences worldwide. His most recent bout, Paul vs. Fury, surpassed more than 800,000 pay-per-view purchases and was a commercial success for all our partners. Jake remains one of the most avidly followed fighters in the sport and all eyes are on him, wondering what's next," said Nakisa Bidarian, co-founder of Most Valuable Promotions. "Well, what's next is one of the most vicious men ever in the cage. I couldn't be more excited to bring this fight to fruition with two of the most polarizing figures in the game, who have both shown the heart to fight through adversity. We are incredibly proud to work with Nate Diaz, Real Fight, DAZN, and American Airlines Center to showcase this thrilling matchup and have no doubt that Paul vs. Diaz will be the hottest ticket in Dallas this summer."
"Nate's departure from the UFC made him the most sought-after free agent in combat sports history with all eyes looking to see what his next move would be," said Real Fight Inc. President, Zach Rosenfield. "In choosing to make his boxing debut against Jake Paul, Nate found an opponent where there is an organic, non-scripted backstory that motivates him and will clearly capture the excitement of audiences throughout the world. Together with MVP, we look forward to producing an event worthy of the names of the marquee."
"We are incredibly excited to have this mega fight on DAZN around the world," said Joe Markowski, CEO of DAZN North America. "One of the biggest names in boxing meeting one of the biggest names in MMA makes for a truly unique matchup on a global scale. Watch it live globally on DAZN PPV."
"We are thrilled to host the highly anticipated Paul vs. Diaz fight at American Airlines Center on August 5th" says Dave Brown, Chief Operating Officer & General Manager of American Airlines Center. "Dallas provides the perfect location to reach a massive audience and showcase the most exciting boxing match scheduled for this summer."